The Virtual 5G Forum will offer its attendees the 5G development success story in Korea through the multinational Samsung. In view of the cancellation of the Mobile World Congress, the Virtual 5G Forum 2020, on May 6th and 7th, has become a unique opportunity to learn about the latest advances made in the field of 5G technology, both in Spain and in the rest of the world.
The 5G has already been successful in several of the markets where it has been deployed. In particular, Korea, the first country to launch 5G, has seen a very high adoption.
In his presentation, Daniel Borrás, Director of Marketing and Business Development at Samsung Networks Europe, will present the trends in this country and also the next innovations around 5G technology.
"Compared to 4G, 5G technology is a success in countries where it has already been launched, because it is being adopted even faster and also has great potential in terms of technological evolution", says Borrás.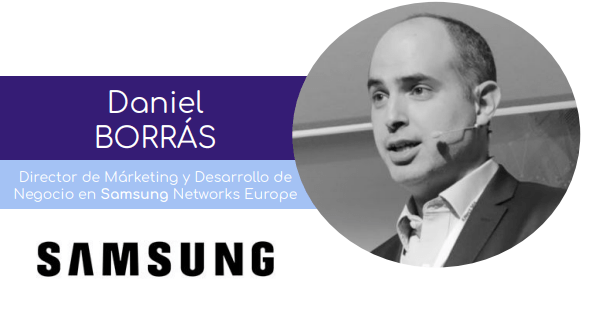 Operators' passion for deploying 5G networks quickly led to successful commercial launches, with Korea being a pioneer in this regard. Samsung's "5G end to end" solution played a crucial role in its rapid implementation and commercialization.
In its keynote, Samsung will explain the importance of this cooperation and other keys to the successful development of 5G in Korea, as well as Samsung's vision for the near future of this technology. Daniel Borrás will show the evolution of 5G and the next technological innovations from the company's point of view, such as the millimeter band, Stand Alone architecture or virtualization.
Virtual 5G Forum 2020, organized by Medina Media Events, is the main event about 5G technology in Spain and it will present the latest advances from professionals and big companies such as Samsung, Vodafone Business, Cisco, 5Genesis, Intracom Telecom, Rohde & Schwarz, Huawei, Hispasat, Impulsa Visión RTVE, Nokia, Axión and the Observatorio Nacional 5G, an initiative promoted by Mobile World Capital, the Ministry of Economic Affairs and Digital Transformation and Red.es, sponsors of the event.
Those attending the Virtual 5G Forum will be able to access the more than 20 keynotes and panel sessions that make up the Agenda of the Virtual 5G Forum 2020. They will also be able to visit exclusive demos from this moment on and request video meetings with all the speakers and participants, the days before, during and after the event, with the aim that the Virtual 5G Forum serves as a permanent and exclusive platform on 5G technology.