The Virtual 5G Forum will offer its attendees the latest developments in 5G applications in the emergency, security and business sectors. In view of the cancellation of the Mobile World Congress, the Virtual 5G Forum 2020 has become a unique opportunity to learn about the latest developments in the field of 5G technology, next May 6th and 7th.
Under the title "5GENESIS Málaga, a 5G platform open to innovation", Pedro Merino, technical director of the 5GENESIS project, will present at the Virtual 5G Forum the status of the project and the first tests with companies that will benefit from 5G, as well as other tests planned for the coming months.
Specifically, in Malaga they have deployed two fundamental 5G areas: the area of the campus of the University of Malaga (UMA) and the area in the center of the city: "Currently what we have in the Institute of Technology and Software Engineering (ITIS) is a deployment on the roof of the building of eight remote heads, four of them 4G and other four 5G to have the NSA 5G mode (5G Non-Autonomous) working in the building", explains Merino.
In addition to presenting the experimental 5G network of the Institute of Technology and Software Engineering (ITIS) of the University of Málaga, Pedro Merino will present future use cases that they intend to carry out in collaboration with other companies and public bodies such as the City Council of Torremolinos, the company DTK, with the Port of Málaga and with other services of the University of Málaga.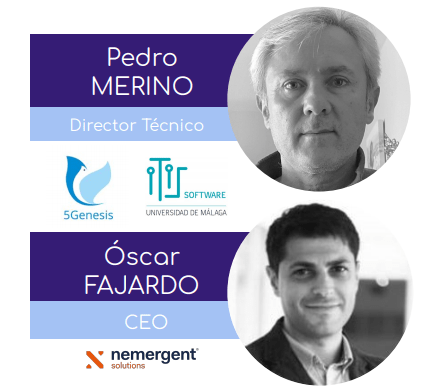 For his part, Óscar Fajardo, CEO of Nemergent Solutions, will give details of the deployment and testing for communications between law enforcement agencies, such as the Local Police of Malaga.
"The important thing is that we are able to create unified emergency management groups quickly. The implementation of 5G in communications between security forces would help units that are in the field to have better communication between them. Not only in terms of controlling how people are moving around, but being able to track where colleagues are and, if there's a problem, being able to do guided navigation in a much more agile way", Fajardo said.
Virtual 5G Forum 2020, organized by Medina Media Events, is the main event about 5G technology in Spain and it will present the latest advances from professionals and big companies such as Samsung, Vodafone Business, Cisco, 5Genesis, Intracom Telecom, Huawei, Hispasat, Impulsa Visión RTVE, Nokia, Axión and the 5G National Observatory, an initiative promoted by Mobile World Capital, the Ministry of Economic Affairs and Digital Transformation and Red.es, sponsors of the event.