The 5G Forum, the main meeting on 5G technology held in Spain on May 6th and 7th in a completely virtual way, will share with its attendees new and revolutionary concepts such as "telepresence", nicknamed by the Finnish multinational Nokia, as "The Owl".
Álvaro Villegas, director of Nokia Bell Labs España, will present at the Virtual 5G Forum 2020 a device through which we will move from conventional video calls to "teleportation", dubbed "The Owl". This device would be placed at a point within a group of people providing immersive audio and 360º vision to a person who is remotely connected with virtual reality glasses.
"It's a completely immersive experience, we have a 360° view. You feel like you're there because you can ask, interrupt and feel like you're somewhere else", notes Villegas.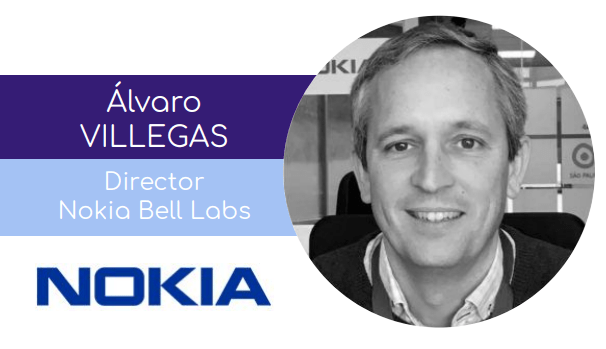 The director of Nokia Bell Labs in Spain, Álvaro Villegas, will present other use cases in the Virtual 5G Forum, such as 5GEVE, 5GPERFECTA, UNICRINF and the 5GMOBIX project, which address issues such as the real behavior of the 5G network and services, appropriate emergency and remote driving protocols, among others. These use cases will also be available in the online demonstration area of the Virtual 5G Forum, with an assigned expert to whom attendees can request video meetings.
Virtual 5G Forum 2020, organized by Medina Media Events, is the main event about 5G technology in Spain and it will present the latest advances from professionals and big companies such as Samsung, Vodafone Business, Cisco, 5Genesis, Intracom Telecom, Rohde & Schwarz, Huawei, Hispasat, Impulsa Visión RTVE, Nokia, Axión and the Observatorio Nacional 5G, an initiative promoted by Mobile World Capital, the Ministry of Economic Affairs and Digital Transformation and Red.es, sponsors of the event.
Those attending the Virtual 5G Forum will be able to access the more than 20 keynotes and panel sessions that make up the Agenda of the Virtual 5G Forum 2020. They will also be able to visit exclusive demos from this moment on and request video meetings with all the speakers and participants, the days before, during and after the event, with the aim that the Virtual 5G Forum serves as a permanent and exclusive platform on 5G technology.