The second edition of the VR Observatory, to be held on 18 and 19 July at the Malaga Content Pole, will feature internationally successful companies such as the Malaga-based multinational Premo Group, which has been in business for 56 years and is now an international leader in the manufacture of inductive components. Its commitment to innovation has meant that its technology has now been implemented in one out of every three cars manufactured worldwide under the main international car brands such as Mercedes, Audi, BMW, Toyota, Ford, Renault and Tesla, among others.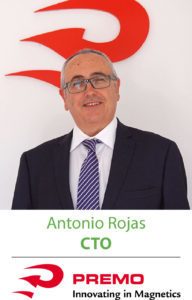 Antonio Rojas, CTO of Premo Group, will share with those attending the OVR18 his case of international success as a manufacturer of antennas for the technologies that are producing the Fourth Industrial Revolution, that is, interaction with robots, Artificial Intelligence, Virtual Reality, Internet of Things, autonomous cars, Man-machine collaboration, or Big Data, since, these types of technologies that are transforming the economy and society, need a huge amount of sensors and information connected to the Internet wirelessly.
At the VR Observatory they will demonstrate the star component developed by the company: an electromagnetic sensor called 3DCoilCube. With this sensor you can place the transmitter in gloves, remote controls or on the console and the receiver in the virtual reality glasses, letting the magnetic field do the rest. This unique wireless motion detection technology is already used in some of the world's most advanced VR/AR devices, tracking even the smallest, slowest movements for optimal motion tracking.
For its part, the Danish company Amfitech will also be present at the OVR18 to share the keys to the development and customization of electromagnetic tracking systems. For the past 15 years, Amfitech's team of highly qualified engineers has worked together with national and international customers, integrating electromagnetic tracking systems into a wide range of applications, including Virtual Reality.
Grupo Premo and Amfitech join the most important multidisciplinary event held in Spain on these new technologies, along with other leading companies such as Samsung, Nokia, YBVR, Opossum Studios, Sngular, Giants and Versus Gamers, among others.