How to get 5G to areas where there is no or little land infrastructure is one of the topics to be discussed at the 5G Forum 2020 on May 6th and 7th, in virtual format.
Inés Sanz, Customer Engineering Manager, will explain the advantages that the satellite provides to the 5G, "Among which are security, robustness, multicast capacity and global coverage", according to Sanz.
"The new satellites are already designed with architecture inspired by 5G. The satellite will be able to provide connectivity solutions to all people and things regardless of where they are", says Sanz.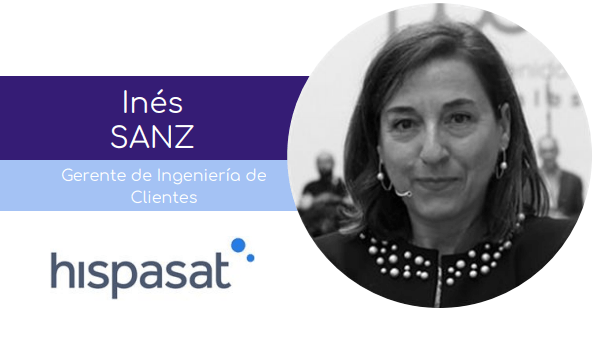 For Hispasat's Customer Engineering Manager, in this situation of confinement the presence of the satellite in Spain is being missed because of its capacity to reach remote areas: "Once the satellite is integrated within the 5G standard we will have many more possibilities that we are not able to imagine".
In addition, Inés Sanz will present two projects that Hispasat is carrying out: the Darwin project, focused on providing a connectivity solution for the autonomous vehicle and the connected vehicle; and the Energy5 project for Smart Grid applications, where satellites allow the deployment and operation of very high reliability and availability energy networks in remote and isolated areas.
Virtual 5G Forum 2020, organized by Medina Media Events, is the main event about 5G technology in Spain and in its third edition, the first virtual one, the latest advances will be presented by professionals and big companies such as Samsung, Vodafone Business, Cisco, 5Genesis, Intracom Telecom, Rohde & Schwarz, Huawei, Hispasat, Impulsa Visión RTVE, Nokia, Axión and the Observatorio Nacional 5G, an initiative promoted by Mobile World Capital, the Ministry of Economic Affairs and Digital Transformation and Red. es, sponsors of the event.
Those attending the Virtual 5G Forum will be able to access the more than 20 keynotes and panel sessions that make up the Agenda of the Virtual 5G Forum 2020. They can also request from now on video-meetings with all the speakers and participants, the days before, during and after the event, with the aim that Virtual 5G Forum serves as a permanent and exclusive platform on 5G technology. In addition, you can consult the keynotes of previous editions of the 5G Forum, and visit the demos and an exclusive 5G webinar, open to the public.